Setup in less than 2 minutes
The Collaborate i/o system can be up and running in less than two minutes! Just follow these four easy steps:
1. attach table clamp
2. insert Collaborate i/o system
3. plug into wall power
4. login and start collaborating!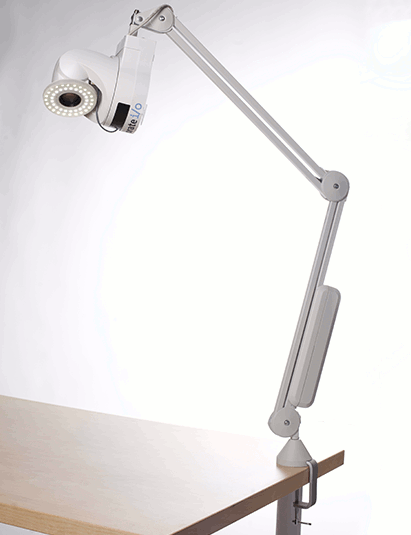 Click to view full size image
Built in Tele-Conferencing
No more phone trees or digging through emails to find your conference call access code. Collaborate i/o has tele-conferencing built right into the application. So with just two clicks of your mouse you're in a conference talking to the other people in your Collaborate i/o session using your computers mic and speakers.
No software to install
Collaborate i/o requires only the Adobe Flash Player, which is available for all modern web-browsers and is already installed on 99% of PC's. As long as you have flash version 10.2 or later installed you won't need to install any additional software.
Intuitive Control
The Collaborate i/o client offers intuitive controls and navigation. The user interface draws upon familiar concepts from the best consumer software so the controls should be familiar to everyone!
Enhanced Navigation: Saved Positions
Collaborate i/o gives you incredible magnification and resolving power so when you're looking at a needle you can get lost in the haystack. Luckily, Collaborate i/o also includes awesome tools to help you navigate around your haystack. With the Save Positions feature you can quickly return to previous camera views that you chose to Save. Forgot to save a view? We've got you covered! Collaborate i/o saves a snapshot of all of the previous views so with a single click you can quickly return to your previous view.
Enhanced Navigation: Map View
The Map feature scans your surroundings to generate a panoramic image mosaic. This provides a bird's eye view of where the camera is focused. It also let's you quickly whip the camera around to look at different areas of interest. Try it: it's handy and it's kinda fun!
No Firewall Configuration
In a situation where the IT department has the network on lock-down? No problem, our optional 4G cellular connection to bring your own internet connection. You'll get blazing fast internet speeds without having to count on IT to open up their network.